SNFCC
An online experience that reflects the values of openness and inclusiveness and the engaging architecture as they are witnessed by the visitor on-site.
Stakeholder Interviews
User Research
Data Analysis
Industry Analysis
Information Architecture
Wireframes
Mobile first
White space
Clear navigation
User friendly
Code scalability
Platform integration
Customed registration mechanism
Payment tools integration
Membership database statistics
Stavros Niarchos Foundation Cultural Center is a unique multifunctional complex, the result of a donation of unprecedented scale by the Stavros Niarchos Foundation to the Greek society, a cultural and environmental landmark. It was designed by the Renzo Piano Building Workshop, and holds a Platinum LEED certification. It is the first cultural project of such scale to earn this distinction in Europe.
The SNFCC is a public space, where everyone has free access and can participate in a multitude of cultural, educational, athletic, environmental and recreational activities and events. It includes the Greek National Opera, the National Library of Greece, as well as the Stavros Niarchos Park, one of the largest green areas in Athens, covering 21 hectares.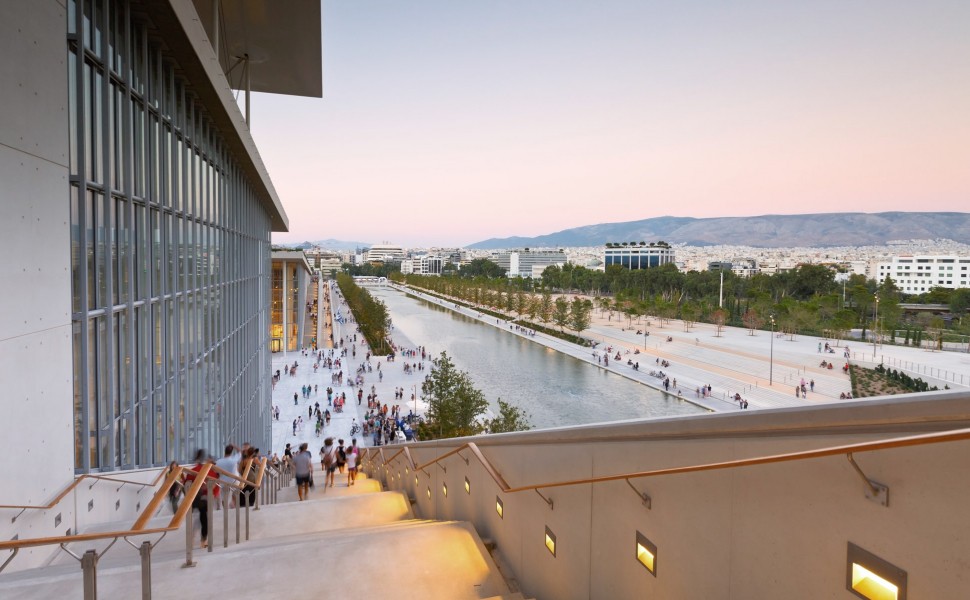 Targeting an extended set of audiences, the new website should accommodate all necessary information, planners and tools, adjusting itself each time to its visitors' needs.
Also, it was of great importance that the architecture, openness and values of the SNFCC complex are reflected online, in an impeccable journey of culture and light.
Our team delivered a site that resembles SNFCC's physical shapes and natural environment, its engaging character and multidisciplinary functionality.
Along with the aesthetics, we worked on the membership area, where customed development gave a fully dynamic subscription system.
Events-based
User is easy to find information according to interest, group, day of the week.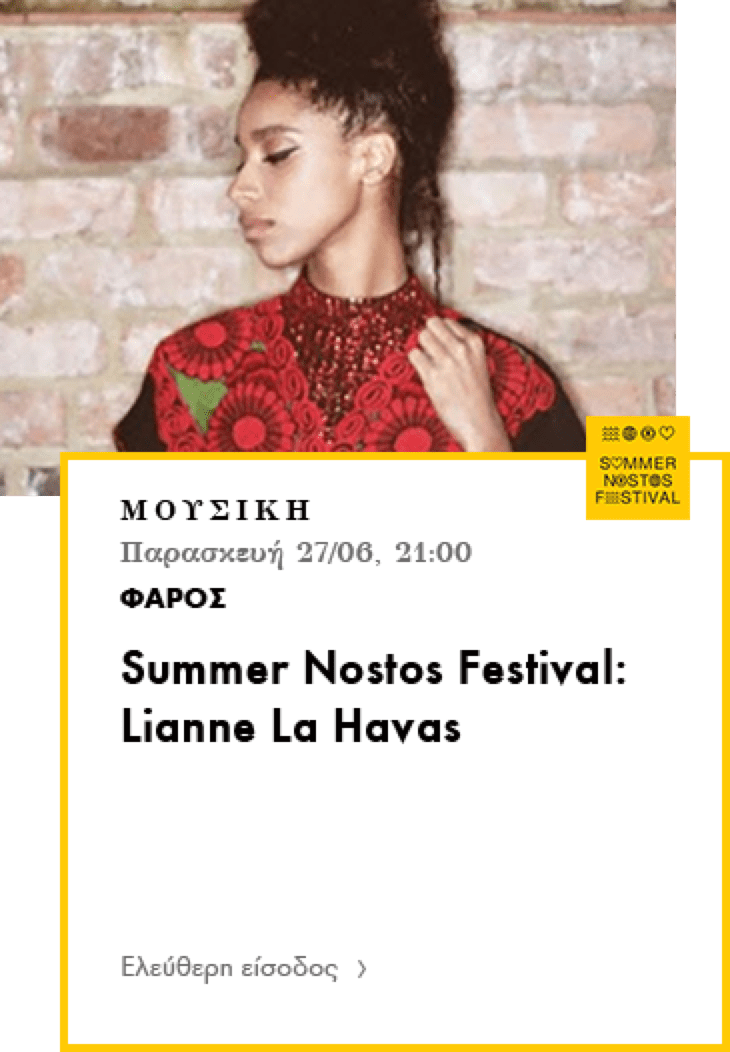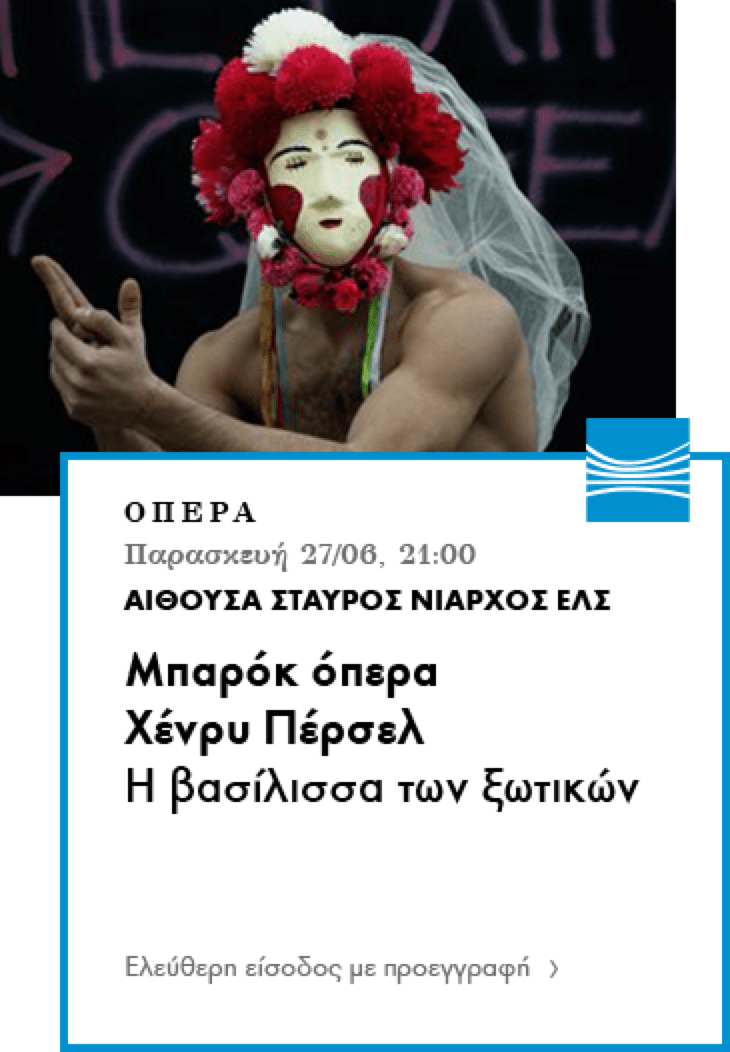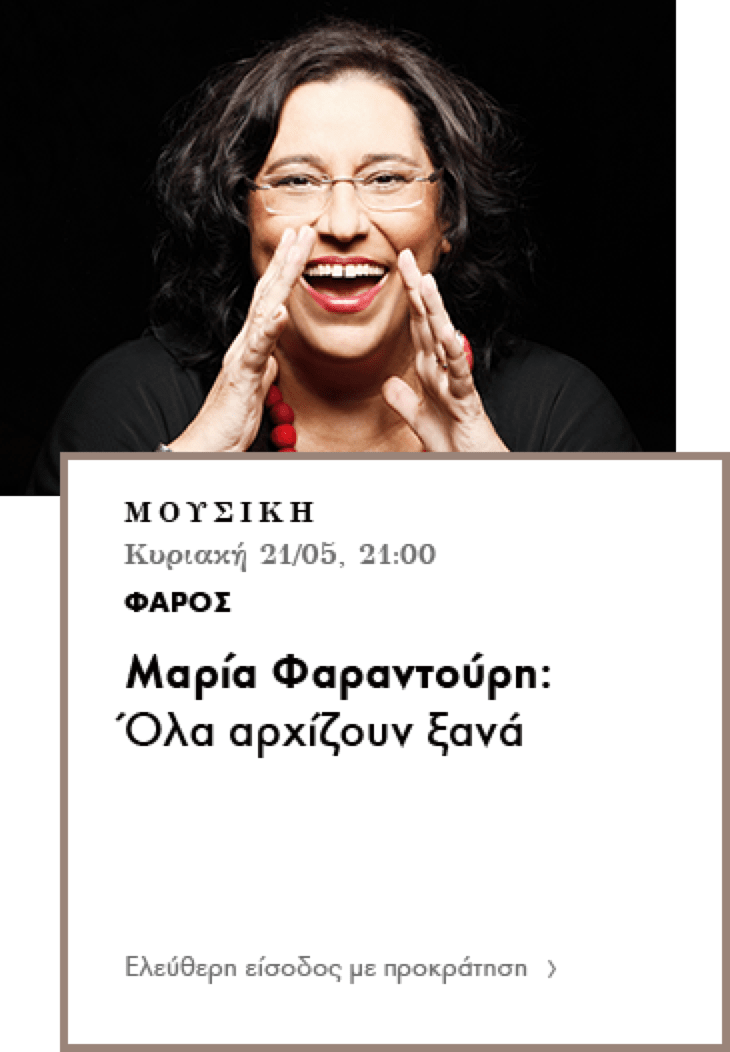 Information about location, parking and everything one needs to know about how to get there stands out.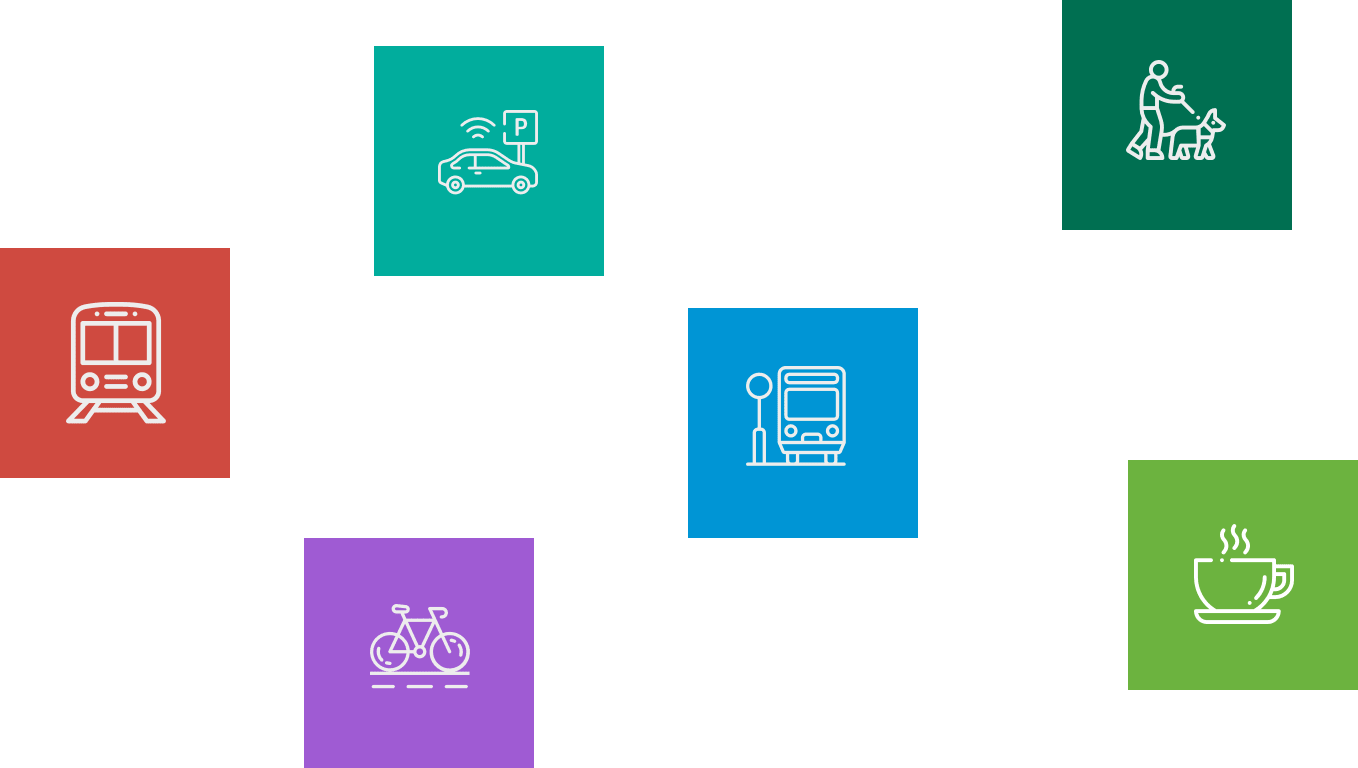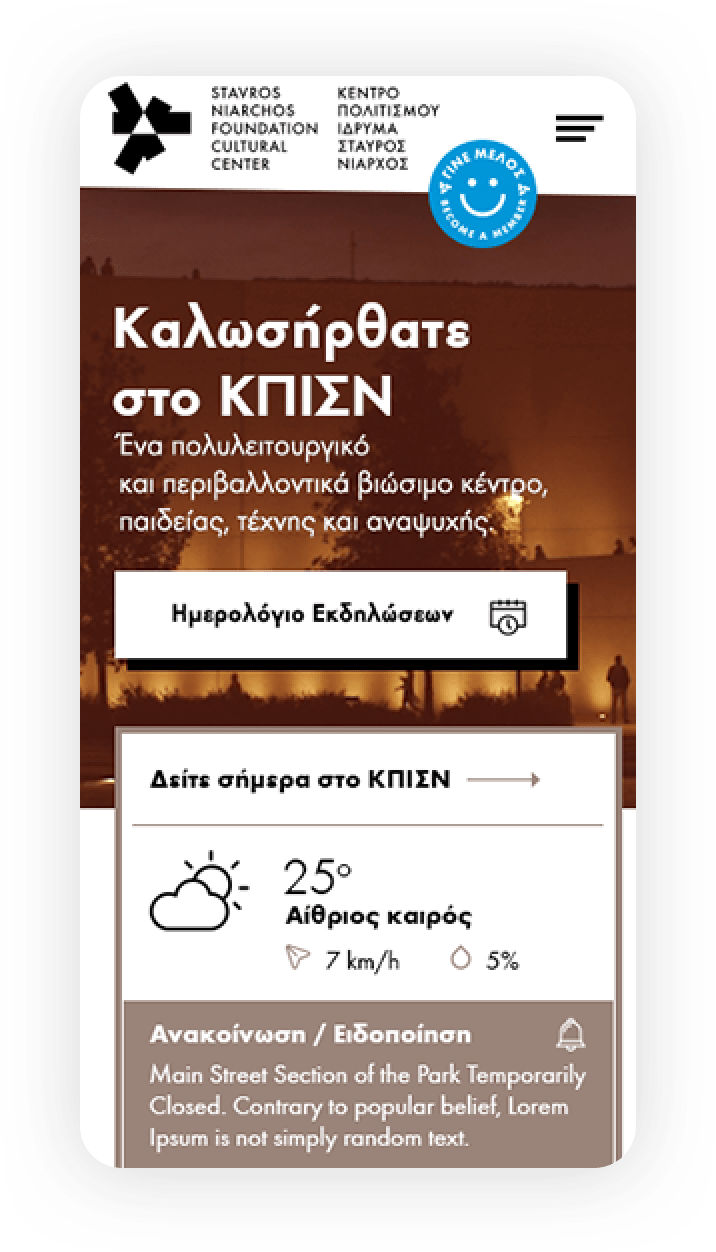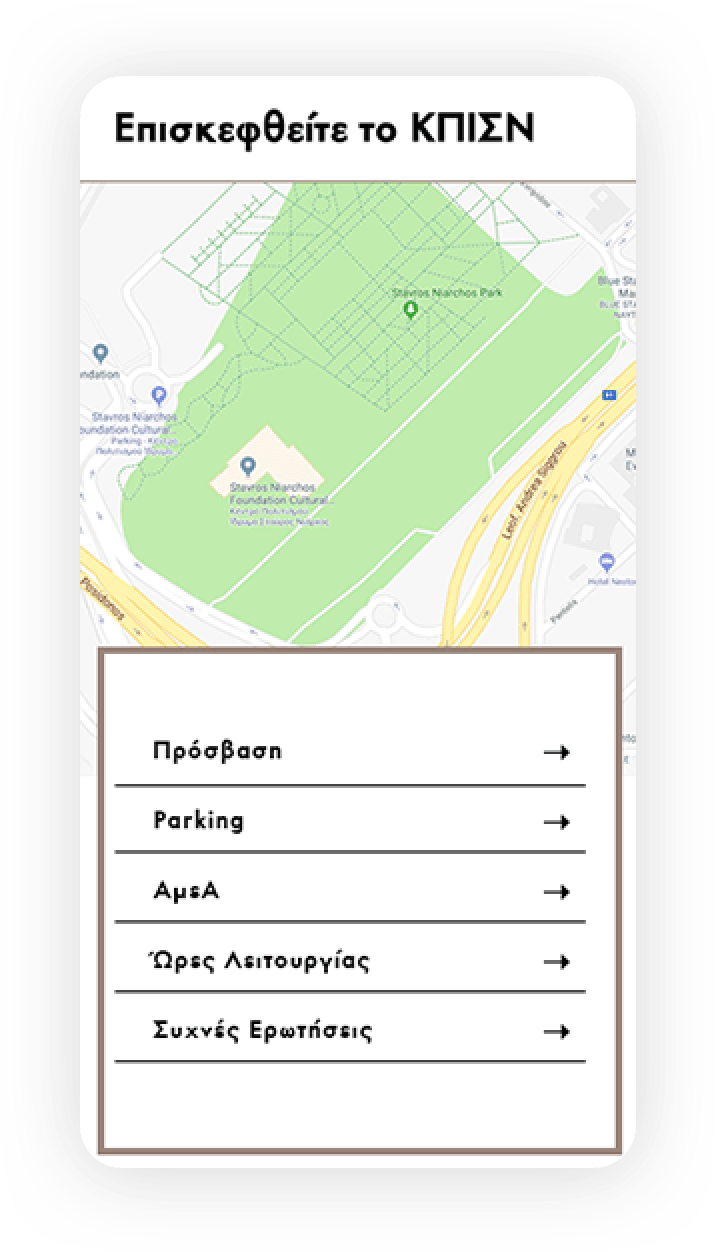 On the Go
Anyone can access information and plan a visit while on the go.
The roof as a symbol
The on-site experience of the building's tilted roof, its symbolic ever-growing dynamic is used on the menu, as the 'roof' of the site.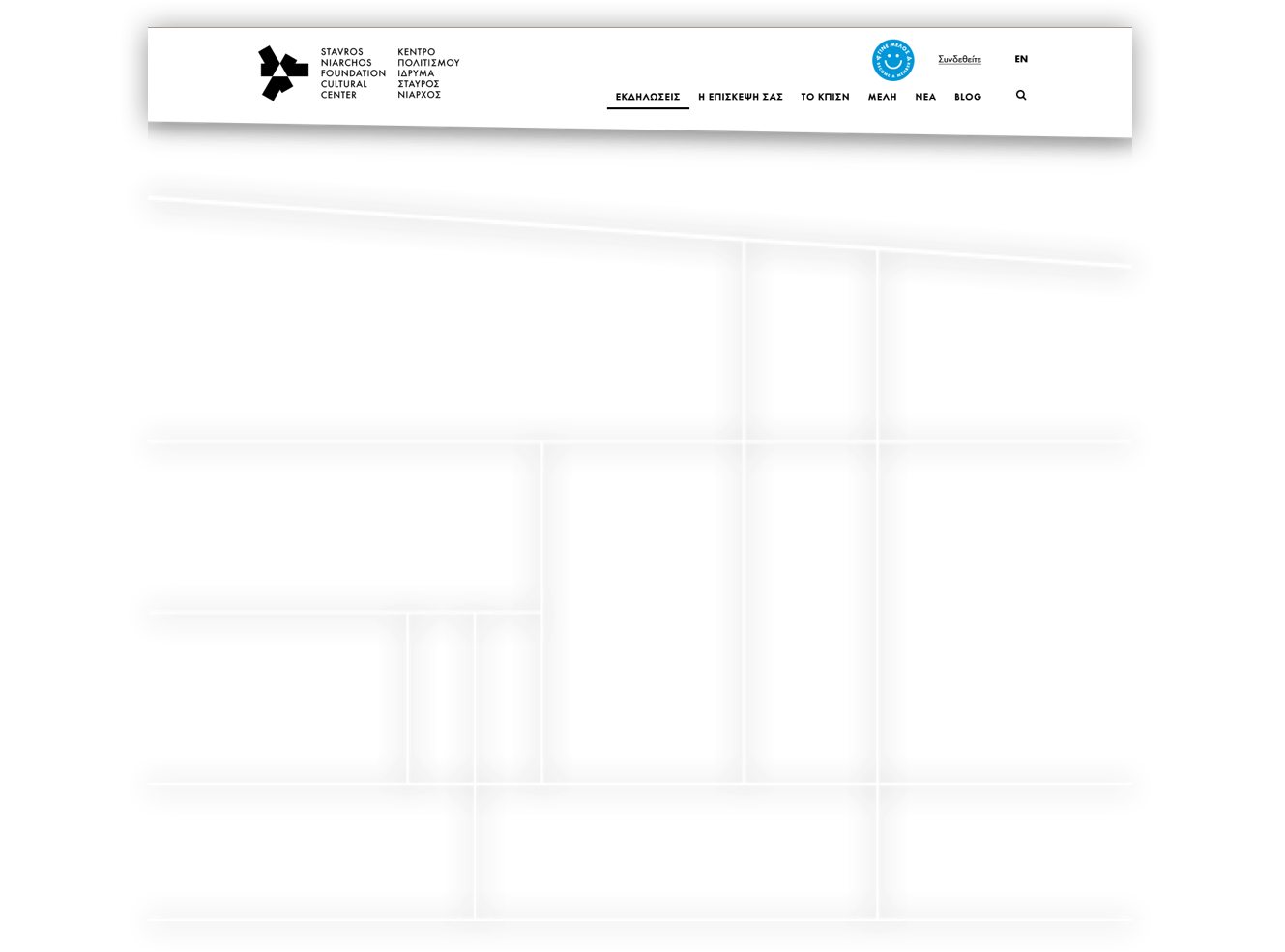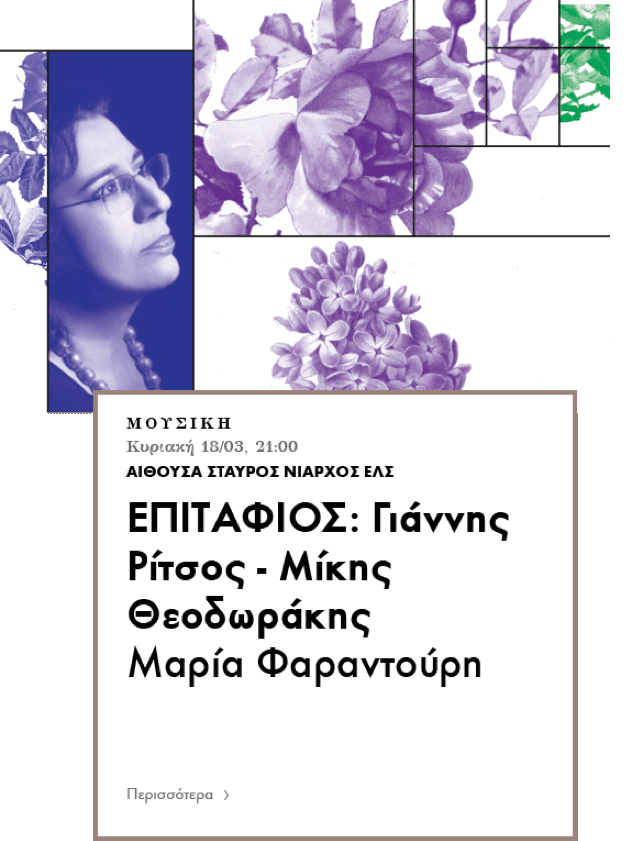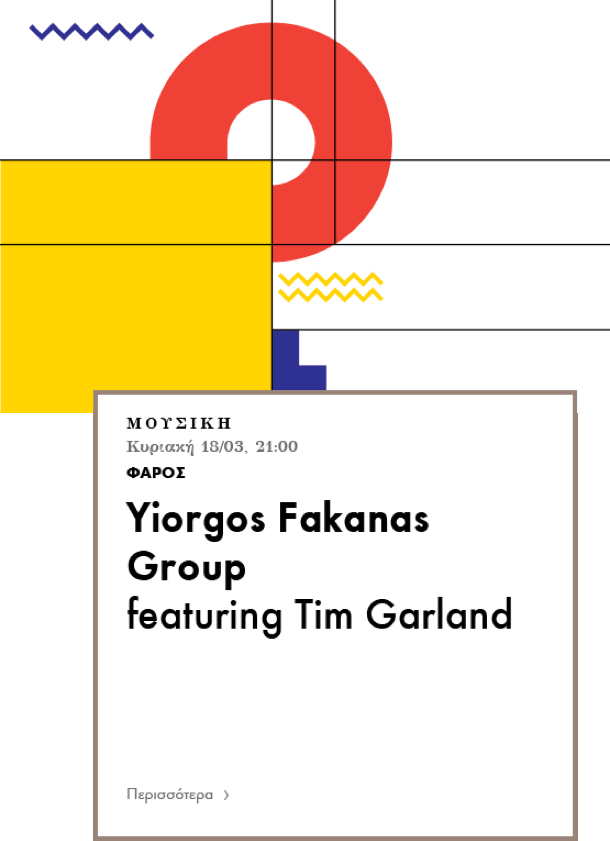 Card design + background
Site's background imitates the building's architectural elements (grid), while card design stands out in a mild way, allowing information to be clear and merge with the design at the same time.
Openness + transparency
Our basic aim was the online experience to faithfully depict SNFCC's values, that's why we designed with lots of white space, large photography, a user-first mindset, design elements and brand guidelines that give a fresh, open, humane experience.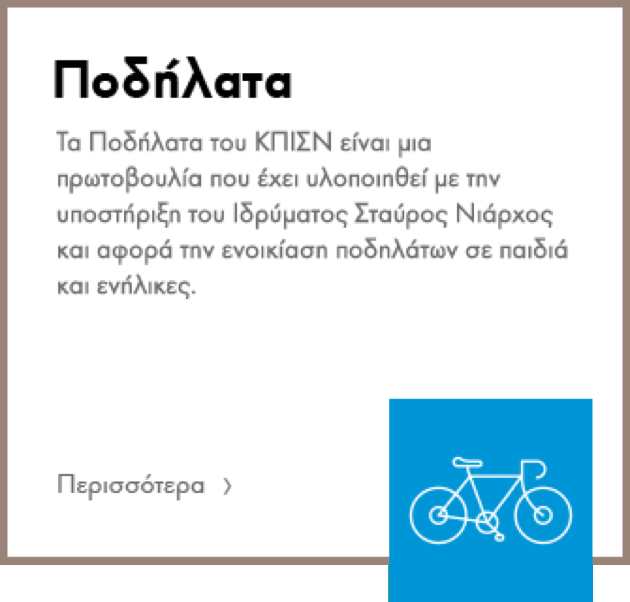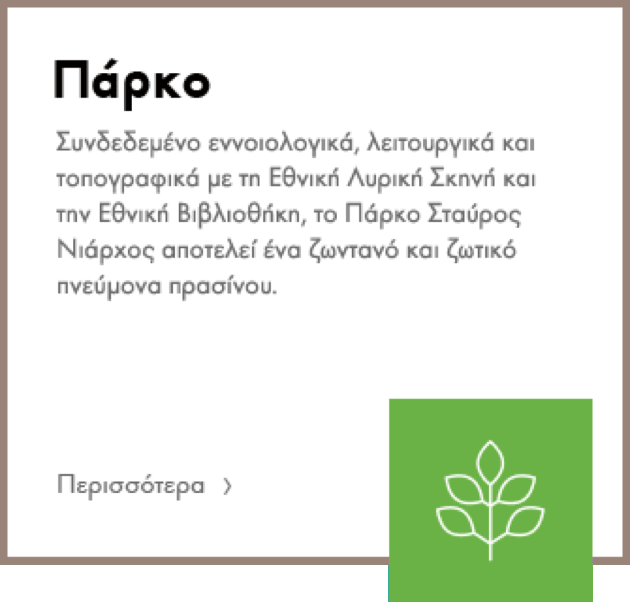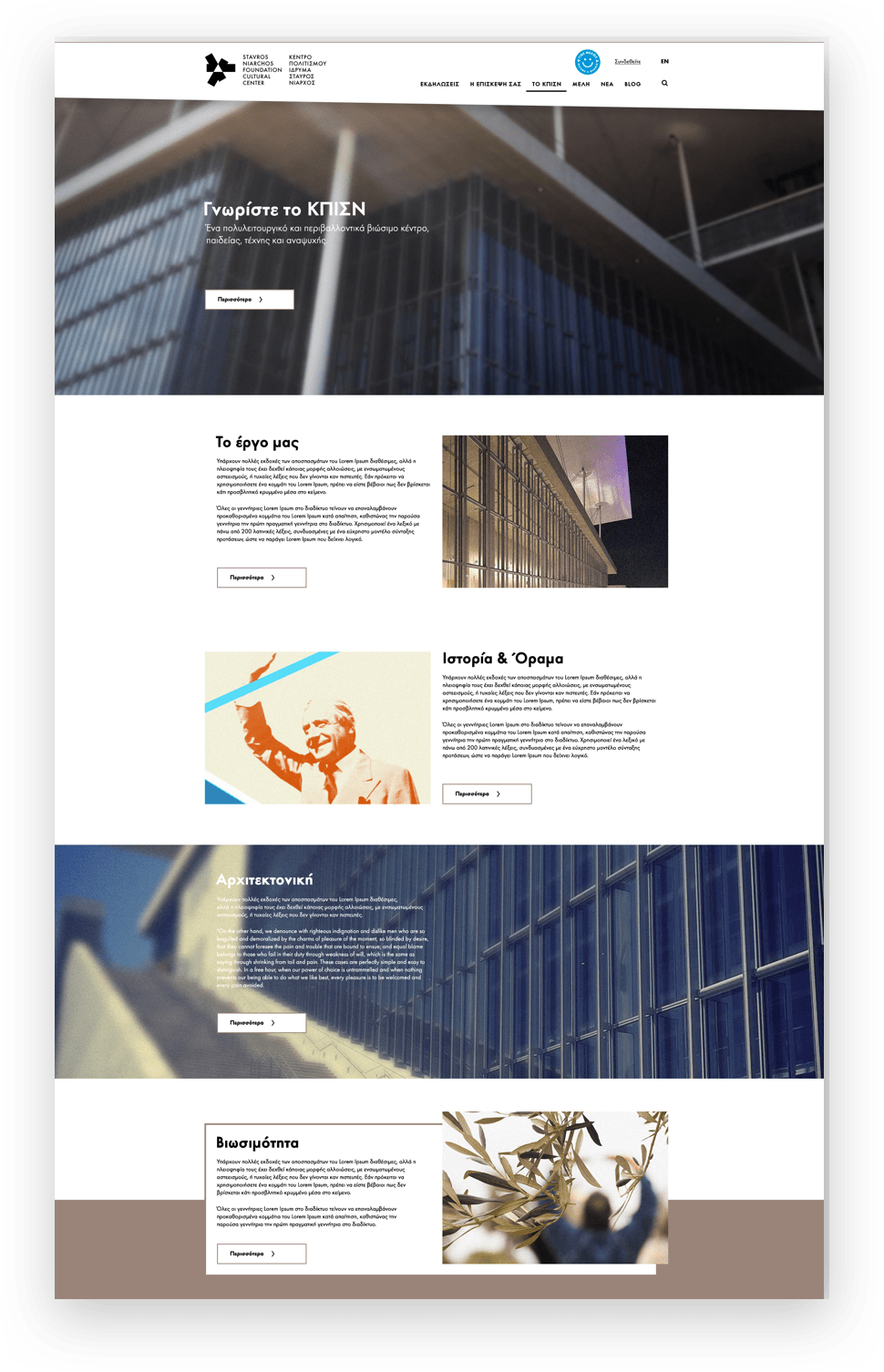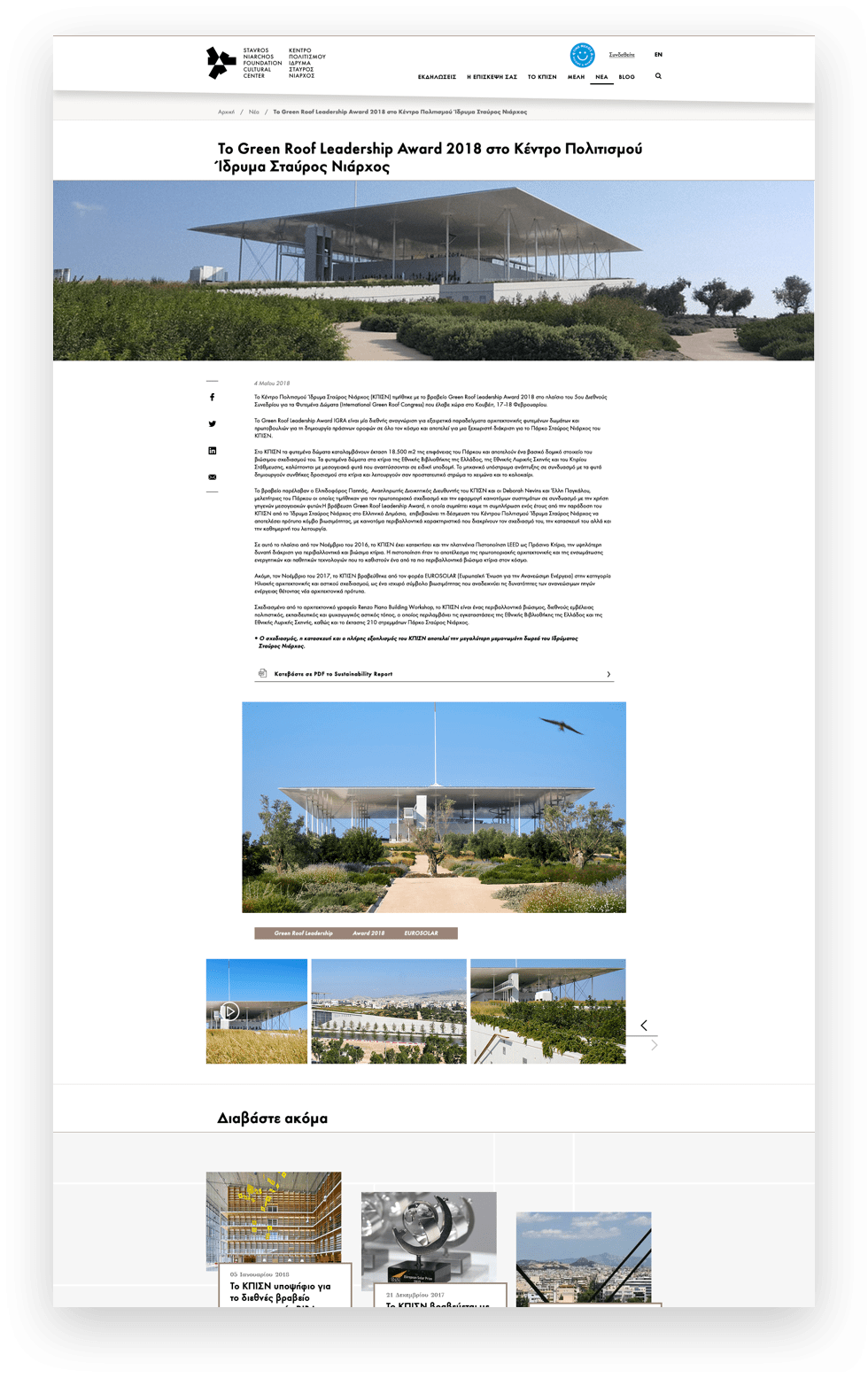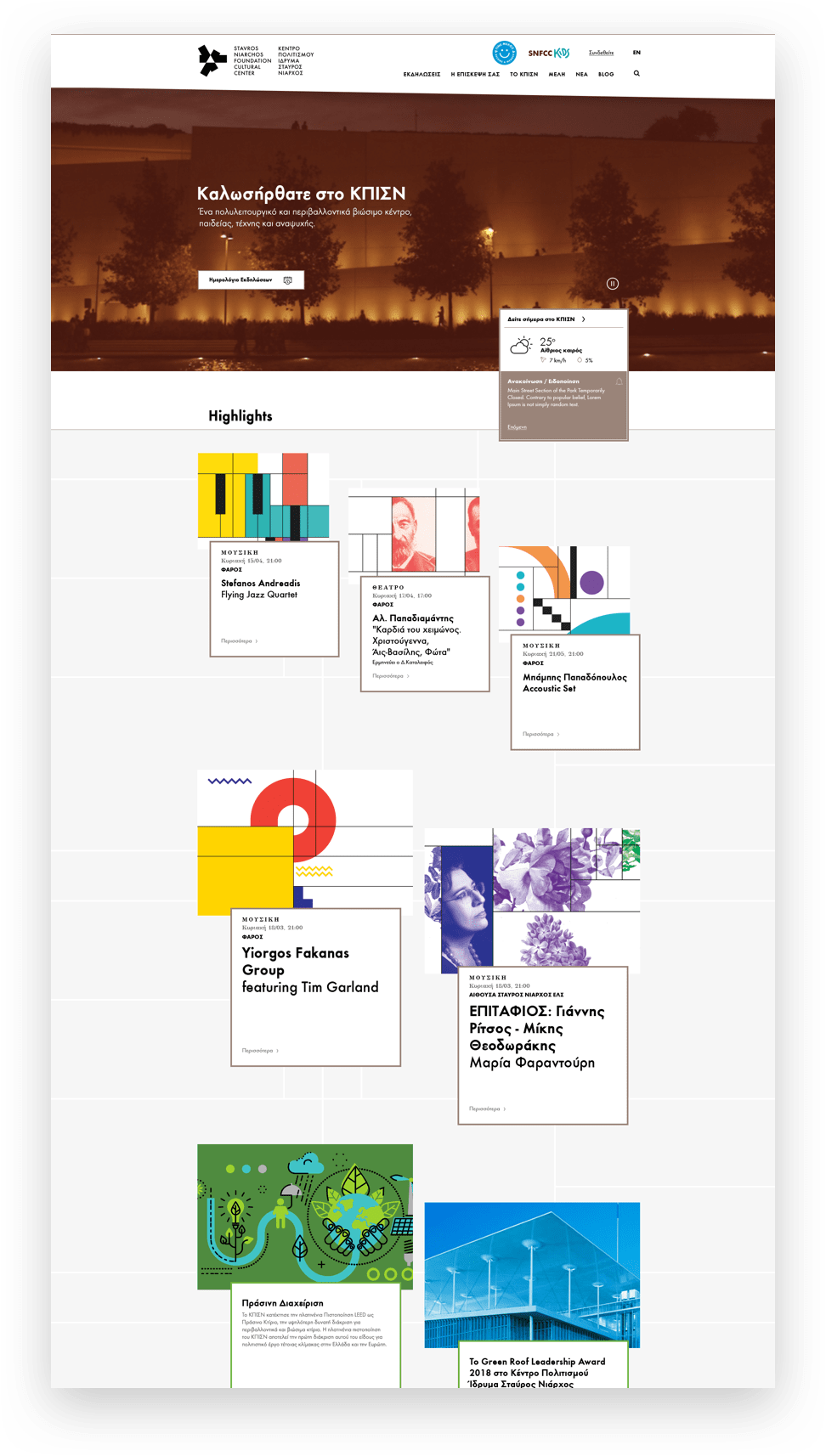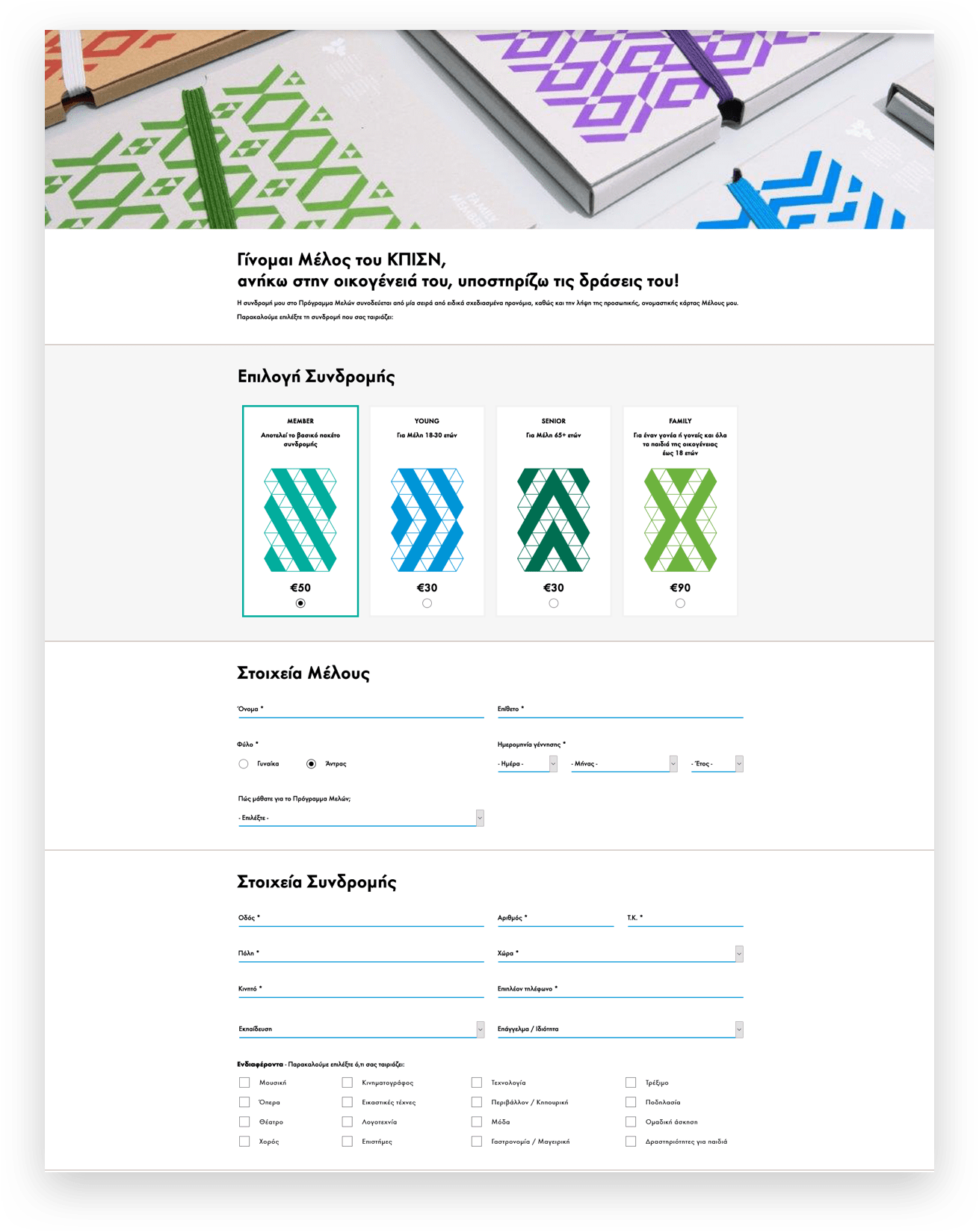 Technology Servers Inclusivity
Membership registration
Offline and online membership platforms have been integrated into a new, tailor made subscription mechanism that serves a double purpose: marketing needs (email campaigns, membership promotions) and business needs (payments, statistics, active members, analytics, etc).
Technologies used
Laravel
Drupal
Xamarin
VueJS